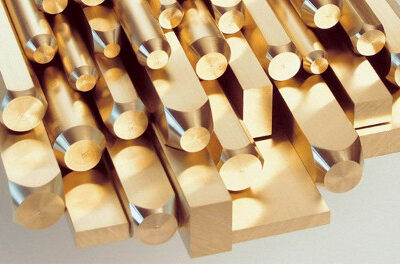 Rod is produced in round, hexagonal, square and rectangular shapes and is finished on combined drawing line and draw benches.
Our rods are used in end products which require machining, forging, cold heading, cold forming, welding, stamping, redrawing strength.
In addition to basic shapes like round, square and hex, Veda Excom Brass also manufactures a host of other specialized shapes ranging from 2.5mm to 80mm and any section as per custom requirements.
Our Brass has its own material analysis laboratory to analyse all alloys cast on site both as melt control and final analyses.
USA Product Profile
Alloy Group 1
Alloy Group 2
27200
Yellow Brass
37700
Forging Brass
27000
Yellow Brass
27400
Yellow Brass
37710
Medium Leaded Brass
35350
Leaded Brass
27450
Yellow Brass
38000
Low Leaded Architectural Bronze
36300
Copper Zinc Lead Alloy
27451
Yellow Brass
38500
Architectural Bronze
47940
Leaded Naval Brass
28000
Muntz Metal, 60%
46200
Naval Brass
66800
Manganese Bronze
28500
Copper Zinc Alloy
46400
Naval Brass
67300
Manganese Bronze
33500
Low Leaded Brass
46500
Naval Brass, Arsenical
67400
Manganese Bronze
34000
Medium Leaded Brass
47000
Naval Brass
68350
Low Silicon Brass
34200
High Leaded Brass
48200
Naval Brass, Medium Leaded
Pb Free
Lead Free Machinable Brass
34500
Leaded Brass
48500
Leaded Naval Brass
69430
Lead Free Machinable Brass
35000
Medium Leaded Brass
48600
Leaded Arsenical Naval Brass
69700
35300
High Leaded Brass
67500
Manganese Bronze
69710
35330
Leaded Arsenic Brass 63/37
67600
Leaded Manganese Bronze
35600
Extra High Leaded Brass
68000
Bronze
36000
Free-Cutting Brass
68100
Bronze
36010
Free-Cutting Brass
68600
Bronze
36500
Forgings, Rod prop as reqd
85450
Copper Zinc Alloy
37000
Free Cutting Muntz Metal
85500
Copper Zinc Alloy
37100
Free Cutting Muntz Metal
85550
Low Silicon Brass
Continuous and Mould Cast Ingots and Billets
22000
Commercial Bronze
42200
85800
22600
Jewelry Bronze
42220
86350
Manganese Bronze Alloy
23000
Red Brass
43400
86400
Manganese Bronze
23030
Low Silicon Red Brass
43500
Tin Brass
86500
Manganese Bronze
23400
Red Brass Welding Filler Metal
43600
86550
24000
Low Brass
44250
86700
24080
Red Brass
44300
Admiralty Brass
87400
25600
Cartridge Brass
44500
Admiralty, Phosphorized
87500
Copper Silicon Alloy
26000
Cartridge Brass 70%
49250
Copper Zinc Bismuth
87850
Copper Silicon Alloy
26130
49260
GEM Brass
87900
Copper Silicon
26200
Cartridge Brass
49300
Lead Free Bismuth Alloy
89540
26800
Yellow Brass
66700
Manganese Brass
89560
Copper Zinc Bismuth
31200
Low Leaded Commercial Bronze
67420
89841
Copper Bismuth Alloy
31400
Leaded Commercial Bronze
68700
Aluminium Brass, Arsenical
31600
Nickel Leaded Commercial Bronze
69100
32000
Leaded Red Brass
69150
Copper Zinc Alloy
33000
Low Leaded Brass
69750
33200
High Leaded Brass
85200
Leaded Yellow Brass
41120
85400
No. 1 Yellow Brass
41300
Tin Brass
85700
Leaded Yellow Brass
Europe Product Profile
| | | | |
| --- | --- | --- | --- |
| Material | Forms Available Rod,Ingot, Billet | Material | Forms Available Rod,Ingot, Billet |
| CuZn13Ni1Al1Si1 | Ingot, Billet | CuZn39Mn1AlPbSi | All Forms |
| CuZn15 | Ingot, Billet | CuZn39Pb0.5 | All Forms |
| CuZn19Sn | Ingot, Billet | CuZn39Pb1 | All Forms |
| CuZn20 | Ingot, Billet | CuZn39Pb2 | All Forms |
| CuZn20Al2As | Ingot, Billet | CuZn39Pb2Sn | All Forms |
| CuZn21Si3P | All Forms | CuZn39Pb3 | All Forms |
| CuZn28 | Ingot, Billet | CuZn39Pb3Sn | All Forms |
| CuZn28Sn1As | Ingot, Billet | CuZn39Sn1 | All Forms |
| CuZn30 | Ingot, Billet | CuZn40 | All Forms |
| CuZn30As | Ingot, Billet | CuZn40Mn1Pb1 | All Forms |
| CuZn31Si1 | Ingot, Billet | CuZn40Mn1Pb1AlFeSn | All Forms |
| CuZn32Pb2AsFeSi | Ingot, Billet | CuZn40Mn1Pb1FeSn | All Forms |
| CuZn33 | Ingot, Billet | CuZn40Mn2Fe1 | All Forms |
| CuZn35Ni3Mn2AlPb | All Forms | CuZn40Pb1Al | All Forms |
| CuZn35Pb1 | All Forms | CuZn40Pb2 | All Forms |
| CuZn35Pb2 | All Forms | CuZn40Pb2Al | All Forms |
| CuZn36 | Ingot, Billet | CuZn40Pb2Sn | All Forms |
| CuZn36Pb2As | All Forms | CuZn41Pb1Al | All Forms |
| CuZn36Pb2Sn1 | All Forms | CuZn42 | All Forms |
| CuZn36Pb3 | All Forms | CuZn42PbAl | All Forms |
| CuZn36Sn1Pb | All Forms | CuZn43Pb1Al | All Forms |
| CuZn37 | All Forms | CuZn43Pb2 | All Forms |
| CuZn37Mn3Al2PbSi | All Forms | CuZn43Pb2Al | All Forms |
| CuZn37Pb0.5 | All Forms | CuZn15As | Ingot, Billet |
| CuZn37Pb1 | All Forms | CuZn32Mn2Al2Fe1 | Ingot, Billet |
| CuZn37Pb1Sn1 | All Forms | CuZn33Pb2 | Ingot, Billet |
| CuZn37Pb2 | All Forms | CuZn33Pb2Si | Ingot, Billet |
| CuZn38AlFeNiPbSn | All Forms | CuZn34Mn3Al2Fe1 | Ingot, Billet |
| CuZn38As | All Forms | CuZn35Mn2Al1Fe1 | Ingot, Billet |
| CuZn38Mn1Al | All Forms | CuZn35Pb2Al | Ingot, Billet |
| CuZn38Pb1 | All Forms | CuZn37Al1 | Ingot, Billet |
| CuZn38Pb2 | All Forms | CuZn38Al | Ingot, Billet |
| CuZn38Pb4 | Rod | CuZn39Pb1Al | Ingot, Billet |
| CuZn38Sn1As | All Forms | CuZn39Pb1AlB | Ingot, Billet |
| | | CuAl10Fe5Ni5 | Billet |